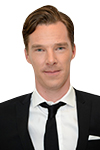 Benedict Cumberbatch
Personal
Tanggal Lahir

19 Juli 1976

Kota Lahir

Hammersmith, London, Inggris

Agama

-

Gender

Laki-Laki
    :
Pria dengan nama lengkap Benedict Timothy Carlton Cumberbatch ini adalah seorang aktor film, serial televisi, teater, voice artist dan produser asal Inggris. Pria ini sudah tampil di banyak produksi film, serial tv, teater, iklan dan masih banyak lagi. Namun namanya baru mulai dikenal luas sejak penampilannya yang menarik perhatian para wanita dalam serial Sherlock.
Tahun 1999 Cumberbatch menjalin hubungan dengan artis Olivia Pulet yang ia kenal sejak masih kuliah. Namun sayangnya hubungan tersebut harus berakhir setelah 12 tahun menjalin hubungan. Di tahun 2011 ia menjalin hubungan dengan artis Anna James, namun berpisah satu tahun kemudian.
KARIR        :
Meskipun sudah tampil sebagai aktor di berbagai film, teater, tv seri, serta drama radio, nama Benedict Cumberbatch tidak dikenal oleh kalangan internasional. Namun setelah ia menjadi pemeran utama dalam serial Sherlock di tahun 2010, namanya mulai banyak dikenal terutama di kalangan para wanita.
Sejak tahun 2001 Cumberbatch sudah banyak memerankan drama klasik di Regent's Park Open Air, Almeida, Royal Court dan Royal National Theatres. Pria yang lahir pada 19 Juli 1976 ini bahkan mendapatkan berbagai penghargaan untuk perannya dalam teater, seperti Olivia Awards, Ian Charleson Awards, Evening Standards Theatre Awards dan Critics' Circle Theatre Awards.
Peran pertamanya dalam serial televisi dimulai saat ia tampil sebagai bintang tamu dalam Heartbeat di tahun 2000. Sejak tahun 2000 hingga sekarang, Cumberbatch total bermain dalam serial tv sebanyak 23 kali termasuk salah satunya serial Sherlock yang tayang di BBC. Dalam perannya sebagai Sherlock Holmes di serial tersebut, nama Benedict Cumberbatch semakin dikenal di kalangan internasional.
Tahun 2006 Cumberbatch tampil dalam film Amazing Grace sebagai William Pitt the Younger. Perannya di film ini berhasil membuatnya mendapatkan nominasi untuk London Film Critivs Circle dalam kategori British Beakthrough Acting Awards. Di tahun 2012 Cumberbatch ikut ambil bagian dalam film yang diangkat dari novel karya J.R.R Tolkien, The Hobbit. Cumberbatch mengisi suara dan menyediakan motion-capture untuk peran Smaug dan Necromancer dalam An Unexpected Journey.
Ketertarikannya dalam drama radio juga membuatnya bergabung dalam beberapa produksi. Salah satu penampilannya yang terkenal adalah Rumpole anf the Penge Bungalow Murders (2009) yang merupakan adaptasi sari novel John Mortimer. Dalam drama radio tersebut ia memerankan Young Rumpole.
Tidak berhenti di bidang enterntainment saja, Cumberbatch juga menjadi narator dalam beberapa acara dokumenter untuk National Geographic dan Discovery Channel. Ia juga membaca untuk beberapa audiobook termasuk diantaranya adalah Casanova, The Tempest, The Making of Music, Death in a White Tie, Artists in Crime dan Sherlock Holmes: The Rediscovered Railway Mysteries and Other Stories.
Suara Cumberbatch juga menghiasi beberapa iklan untuk beberapa produk besar seperti Jaguar, Sony, Pimms dan Google+. Dalam Olimpiade London 2012, Cumberbatch tampil dalam film pendek tentang sejarah London untuk opening ceremony yang disiarkan BBC.
Bersama denga Adam Ackland, Patrick Monroe. Ben Dillon, dan Adam Selves, Cumberbatch mendirikan production company yang diberi nama SunnyMarch Ltd. pada akhir 2013. Project pertama mereka adalah film Little Favour dengan Cumberbatch sebagai pemeran utama. Film tersebut ditulis dan disutradarai oleh Monroe. Film bergenre action-thriller ini mulai tersedia secara internasional di iTunes sejak 5 November 2013.
FILMOGRAFI    :
Film
2002 :
- Hills Like White Elephants sebagai The Man (film pendek)
2003 :
- To Kill a King sebagai Royalist
2006 :
- Starter for 10 sebagai Patrick Watts
- Amazing Grace sebagai William Pitt
2007 :
- Inseparable sebagai Joe/Charlie (film pendek)
- Atonement sebagai Paul Marshall
- Stuart: A Life Backwards sebagai Alexander Masters
2008 :
- The Other Boleyn Girl sebagai William Carey
2009 :
- Creation sebagai Joseph Hooker
2010 :
- Burlesque Fairytales sebagai Henry Clark
- Four Lions sebagai Negosiator
- Van Gogh: Painted with Words sebagai Vincent van Gogh
- Third Star sebagai James
- The Whistleblower sebagai Nick Kaufman
2011 :
- Tinker Tailor SOldier Spy sebagai Peter Guillam
- War Horse sebagai Major Jamie Stewart
- Wreckers sebagai David
2012 :
- The Hobbit: An Unexpected Journey sebagai The Necromancer
- Girlfriend in a Coma pengisi suara Dante Alighieri (dokumenter)
2013 :
- Star Trek Into Darkness sebagai Khan Noonien Singh
- Little Favour sebagai Wallace (film pendek, sekaligus sebagai produser)
- 12 Years a Slave sebagai William Prince Ford
- The Fifth Estate sebagai Julian Assange
- The Hobbit: The Desolation of Smaug sebagai Smaug/The Necromancer
- August: Osage Country sebagai "Little" Charles Aiken (juga menyanyikan soundtrack Can't Keep It Inside)
2014 :
- The Hobbit: The Battle of the Five Armies sebagai Smaug/The Necromancer
- The Imitation Game sebagai Alan Turing (Post-Produksi)
2015 :
- Magik sebagai Lewis (pengisi suara)
- The Penguins of Madagaskar (pengisi suara)
Televisi
2000 :
- Heartbeat sebagai Charles (1 episode)
2002 :
- Tipping the Velvet sebagai Freddy (miniseri)
- Silent Witness sebagai Warren Reid (2 episode)
2003 :
- Cambridge Spies sebagai Edward Hand (miniseri)
- Spooks sebagai Jim North (1 episode)
- Fortysomething sebagai Rory Slippery (6 episode)
2004 :
- Dunkirk sebagai Lt. Jimmy Langley (dokumenter)
- Heartbeat sebagai Toby Fisher (1 episode)
- Hawking sebagai Stephen Hawking (TV film)
2005 :
- Nathan Barley sebagai Robin (2 episode)
- To the Ends of the Earth sebagai Edmund Talbot (3 episode)
- Broken News sebagai WIll Parker (3 episode)
2008 :
- The Last Enemy sebagai Stephen Ezard (5 episode)
2009 :
- Small Island sebagai Bernard (TV film)
- Marple: Murder Is Easy sebagai Luke Fitswilliam (TV film)
2010 :
- The Turning Point sebagai Gut Burgess (TV Theatre Live)
- The Rattigan Enigma by Bennedict Cumberbatch sebagai presentes (dokumenter)
- sekarang Sherlock sebagai Sherlock Holmes (pemeran utama)
2012 :
- Parade's End sebagai Christopher Tietjens (5 episode)
2013 :
- The Simpsons sebagai Perdana Menteri Inggris / Severus Snape (pengisi suara dalam episode Love is a Manly-Splintered Thing)
- Top Gear sebagai bintang tamu di seri 20 episode 3
2016 :
- The Hollow Crown sebagai King Richard The Third
Teater
2001 :
- Love's Labour's Lost sebagai Ferdinand
- A Midsummer Night's Dream sebagai Demetrius
2002 :
- As You Like It sebagai Orlando
- Romeo and Juliet sebagai Benvolio
- Oh, What a Lovely War!
2004 :
- The lady from the Sea sebagai Lyngstrand
2005 :
- Hedda Gabler sebagai Tesman
2006 :
- Period of Adjustmen sebagai George
2007 :
- Rhinoceros sebagai Berenger
- The Arsonists sebagai Eisenring
2008 :
- The City sebagai Chris
2010 :
- After the Dance sebagai David Scott-Fowler
- The Children's Monologue
2011 :
- Frankestein sebagai The Creature/Victor Frankestein
2013 :
- 50 Years on Stage sebagai dirinya sendiri/Rosencrantz
2015 :
- Hamlet sebagai Hamlet
Radio
2004 :
- The Raj Quartet sebagai Nigel Rowan
- Kepler sebagai Johannes Kepler
- The Recruiting Officer sebagai Worthy
- The Odyssey sebagai Telemachus
- The Biggest Secret sebagai Captain Rob Collins
- The Far Side of the World sebagai narator
- The Surgeons Mate sebagai sebagai narator
- Mr. Norris Changes Trains sebagai narator
2005 :
- Le Pere Goriot sebagai narator
- Seven women sebagai Tovey
- Medical Humanities: Baptism by Rotation sebagai narator
- Fieldstudy: The Field sebagai narator
- The COcktail Party sebagai Peter Qulipe
2006 :
- The Possessed sebagai Nikolai Stavrogin
2008 :
- The Pillow Book sebagai Tadanobu
- Blake 7 THe Early Years sebagai Townsend
- The Last Day of Grace sebagai GF
- At War with Wellington sebagai Duke Wellington
- Chatterton: The Allington Solution sebagai Thomas Chatterton
- Spellbound sebagai Dr. Murchison
- Rainy Season sebagai narator
- The Tiger's Tale sebagai narator
- Words and Music: Italian Fantasy sebagai narator
- Doctor Who: Forty-Five sebagai Howard Carter / Thing 2
- Cabin Pressure sebagai Capt. Martin Crieff (sampai 2014)
- Metamorphosis sebagai narator
2009 :
- Good Evening sebagai Dudley Moore
- Little Red Hen sebagai narator
- Rumpole and the Penge Bungalow Murders sebagai Young Rumpole
2010 :
- Rumpole and the Family Pride sebagai Young Rumpole
- Rumpole and the Eternal Triangle sebagai Young Rumpole
- Words for You: The Next Chapter sebagai narator
2011 :
- Tom and Viv sebagai T. S. Eliot
2012 :
- Rumpole and the Man of God sebagai Young Rumpole
- Rumpole and the Explosive Evidence sebagai Young Rumpole
- Rumpole and the Gentle Art of Blackmail sebagai Young Rumpole
- Rumpole and the Expert Witness sebagai Young Rumpole
2013 :
- Copenhagen sebagai Werner Heisenberg
- Neverwhere sebagai Angel Islington
2014 :
- Rumpole and the Old Boy Net sebagai Rumpole
- Rumpole and the Sleeping Partners sebagai Rumpole
Narasi
2006 :
- Casanova (Track:"Memoirs of Giacomo Casanova")
2005 :
- The Man Who Predicted 9/11 (Dokumenter)
2008 :
- Picture This (Dokumenter, 3 episode)
2009 :
- South Pacific (Dokumenter, 6 episode)
2010 :
- Into the Universe with Stephen Hawking (Dokumenter, 3 episode)
2011 :
- Curiosity (Dokumenter)
2012 :
- Stephen Hawking's Grand Design (Dokumenter, 3 episode)
- Late Night Tales: Friendly Fires (Track: "Flat of Angles, Part 1)
2013 :
- Late Night Tales: Röyksopp (Track: "Flat of Angles, Part 2)
- Late Night Tales: Bonobo (Track: "Flat of Angles, Part 3)
- Jerusalem (Dokumenter)
Video Games
2011 :
- The Nightjar sebagai narator
2014 :
- Sherlock: The Networks sebagai Sherlock Holmes
PENGHARGAAN DAN NOMINASI
Film
2006 :
- London Film Critics Circle Award for British Breakthrough untuk film Amazing Grace (nominasi)
2011 :
- British Independent Film Award for Best Supporting Actor untuk film Tinker Tailor Soldier Spy (nominasi)
2013 :
- Critics' Choice Movie Awards kategori Best Acting Ensemble dalam film 12 Years a Slave (nominasi)
- Critics' Choice Movie Awards kategori Best Acting Ensemble dalam film August: Osage County (nominasi)
- Critics' Choice Movie Awards kategori Hottest Movie Star (menang)
- Film critics association awards Washington D.C. Area Film Critics Association Award for Best Ensemble untuk film 12 Years a Slave (menang)
- Film critics association awards Boston Online Film Critics Association Award for Best Ensemble untuk film 12 Years a Slave (menang)
- Film critics association awards Detroit Film Critics Society Award for Best Ensemble untuk film 12 Years a Slave (nominasi)
- Film critics association awards Phoenix Film Critics Society Award for Best Cast untuk film 12 Years a Slave (nominasi)
- Film critics association awards San Diego Film Critics Society Award for Best Performance by an Ensemble untuk film 12 Years a Slave (nominasi)
- Film critics association awards Hollywood Film Festival Award for Best Ensemble Acting untuk film August: Osage County (menang)
- MTV Movie Awards kategori Best Villain untuk film Star Trek Into Darkness (nominasi)
- MTV Movie Awards kategori Favorite Character untuk film Star Trek Into Darkness (nominasi)
- Screen Actors Guild Awards kategori Outstanding Performance by a Cast in a Motion Picture untuk film August: Osage County (nominasi)
- Screen Actors Guild Awards kategori Outstanding Performance by a Cast in a Motion Picture untuk film 12 Years a Slave (nominasi)
Televisi
2004:
- BAFTA Awards kategori Best Actor untuk film Hawking (nominasi)
- Monte-Carlo Television Festival The Golden Nymphs awards kategori Television Films - Best Performance by an Actor untuk film Hawking (menang)
2006 :
- Monte-Carlo Television Festival The Golden Nymphs awards kategori Mini-Series - Best Performance by an Actor untuk film To the Ends of the Earth (menang)
2008:
- Satellite Awards kategori Best Actor Miniseries or Television Film untuk film The Last Enemy (nominasi)
2009 :
- BAFTA Awards kategori Best Supporting Actor untuk film Small Island (nominasi)
2010 :
- Crime Thriller Awards kategori Best Actor untuk film Sherlock (menang)
- Satellite Awards kategori Best Actor Miniseries or Television Film untuk film Sherlock (nominasi)
2011 :
- BAFTA Awards kategori Best Leading Actor untuk film Sherlock (nominasi)
- National Television Awards kategori Most Popular Male Drama Performance untuk film Sherlock (nominasi)
- Majalah GQ UK kategori Aktor of the Year (menang)
2012 :
- BAFTA Awards kategori Best Leading Actor untuk film Sherlock (nominasi)
- Crime Thriller Awards kategori Best Actor untuk film Sherlock (menang)
- Emmy Awards kategori Outstanding Lead Actor in a Miniseries or a Movie untuk film Sherlock (nominasi)
- Satellite Awards kategori Best Actor Miniseries or Television Film untuk film Sherlock (menang)
- Golden Globe Awards kategori Best Actor Miniseries or Television Film untuk film Sherlock (nominasi)
- Television Critics Association awards kategori Critics' Choice Television Award for Best Movie/Miniseries Actor untuk film Sherlock (menang)
2013 :
- Emmy Awards kategori Outstanding Lead Actor in a Miniseries or a Movie untuk film Parade's End (nominasi)
- National Television Awards kategori Most Popular Male Drama Performance untuk film Sherloc (nominasi)
- Satellite Awards kategori Best Actor Miniseries or Television Film untuk film Parade's End (nominasi)
- Television Critics Association awards kategori Critics' Choice Television Award for Best Movie/Miniseries Actor untuk film Parade's End (nominasi)
- Britania Awards untuk kategori British Artist of the Year (menang)
2014 :
- National Television Awards kategori Best TV Detective untuk film Sherlock (menang)
- Monte-Carlo Television Festival The Golden Nymphs awards kategori Television Films - Best Performance by an Actor untuk film Sherlock (pending)
 
Teater
2001 :
- Ian Charleson Awards kategori Best Classical Stage Performance untuk Love's Labour's Lost (nominasi)
2005:
- Ian Charleson Awards kategori Best Classical Stage Performance untuk Hedda Gabler (menang)
- Laurence Olivier Awards kategori Best Performance in a Supporting Role untuk Hedda (nominasi)
2010:
- Evening Standards Theatre Awards kategori Best Actor untuk After the Dance (nominasi)
2011:
- Evening Standards Theatre Awards kategori Best Actor untuk Frankestein (menang)
- Whatsonstage.com Awards kategori Best Actor in a Play untuk After the Dance (nominasi)
2012:
- Critics' Circle Theatre Awards kategori Best Actor untuk Frankestein (menang)
- Laurence Olivier Awards kategori Best Actor untuk Frankestein (menang)